Low bond for attorney's son in chase sparks controversy | News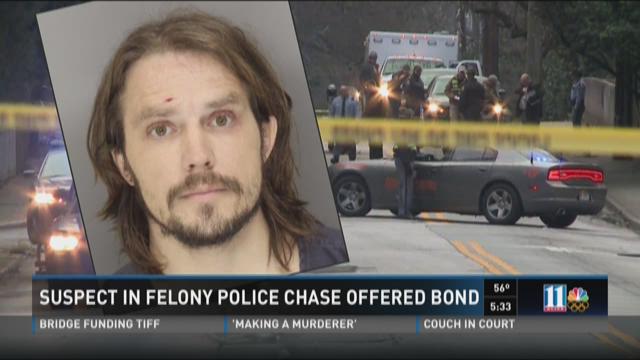 MARIETTA, Ga. -- A man charged with arson, aggravated assault on a police officer and felony alluding police after a Cobb County chase that ended with a crash at Piedmont hospital in early January could soon be out of jail on bond.
And that's raising some eyebrows in the Cobb County legal community. 
It turns out the suspect is the son of a well-respected Cobb County attorney and former judge.
Bond for Thomas Edward Cauthorn IV was set at $25,000 with $10,000 on his own recognizance. Now, some question whether that bond is low for a police chase and aggravated assault on an officer while others say there is more to the story.
He allegedly tried to run and was shot in the arm by a Georgia State Patrol Officer.
Court Documents obtained by 11Alive indicate Judge Joyette Holmes set bond for Cauthorn Thursday.
Cauthorne's father, Thomas Cauthorn III is a prominent Cobb County attorney and former judge. His law firm is named as a host on a recent re-election fundraiser for Judge Holmes.
Emory Law School judicial expert Jonathan Nash said attorneys contributing to a judge's campaign is fairly standard but there are rules they must follow.
"The code by which judges operate calls for them to take into account not just conflict of interest but the perception of conflict of interest by the public," Nash said. "And there well may not have been but you have to look at whether it might appear that way."
But legal expert Randy Kessler sees it a bit differently.
"I have to think about it as a lawyer: do I contribute to a good judge who I like and now I help that judge keep their job but I don't get to use that judge or have clients in front of that judge," Kessler said. "It's a balancing act."
Nash also said $15,000 bond seems low for a case involving aggravated assault on a police officer.
But late Friday afternoon, a Cobb County Courthouse source told 11Alive there are extenuating circumstances in this case.
The bond order requires Cauthorn to seek medical treatment followed by psychiatric care at a care facility while his criminal case is pending.
Some in the Cobb County legal community question whether Thomas Cauthorn
11Alive contacted his father and the judge but have not yet heard back.
In other news