GOP hopeful Ted Cruz makes campaign stop in ATL | News
COBB COUNTY, Ga. -- Hundreds braved the weather in Cobb County for a chance to see Sen. Ted Cruz, as he tries to build momentum in the so-called SEC primary states, which include Georgia.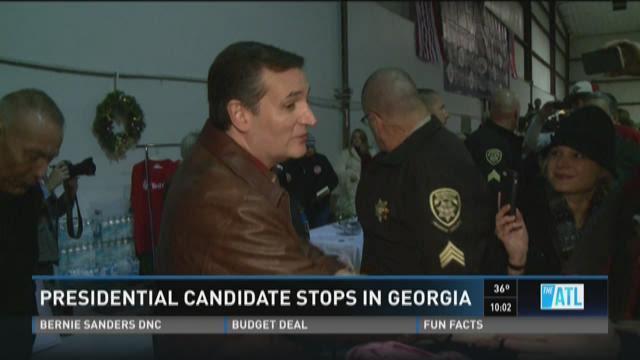 Cruz was more than an hour late to the rally, but he still got a warm reception from the crowd who braved the bitter cold to meet him.
"Senator Rubio has been forced to admit, not only that he supported President Obama and Chuck Schumer's massive amnesty plan, but that Senator Rubio still supports amnesty today, that he still supports citizenship today," Cruz said.
"Particularly in the wake of Paris and in the wake of San Bernadino, it has become clearer than ever before that border security is national security," Cruz said. "If you're not prepared to keep this border secure, then you're not prepared to keep this country safe, because the front line with ISIS is not just Iraq and Syria; it's also Kennedy airport and the Rio Grande."
Cruz is on a two-day swing through Georgia, from Kennesaw Friday night to Savannah for another rally there Saturday.
GALLERY: 2016 candidate photos -- Ted Cruz in Iowa