Cobb Co. commissioner storms out, collapses after angry exchange about racial profiling | News
Title (Max 100 Characters)
Cobb Co. commissioner storms out, collapses after angry exchange about racial profiling
MARIETTA, Ga.  (WXIA)  A Cobb County commissioner who collapsed after storming out of a meeting Thursday night is doing OK.
Emergency services tended to Commissioner Lisa Cupid outside the commission meeting room while supporters surrounded her.  Commissioner Cupid and Commission Chair Tim Lee had just had an angry, verbal exchange.  
Cupid, who is African American, had accused Officer Lawson, who is white, of racially profiling her while she was driving one night last summer. Lawson is the same officer who, last month, stopped an African American driver and told him "I don't care about your people."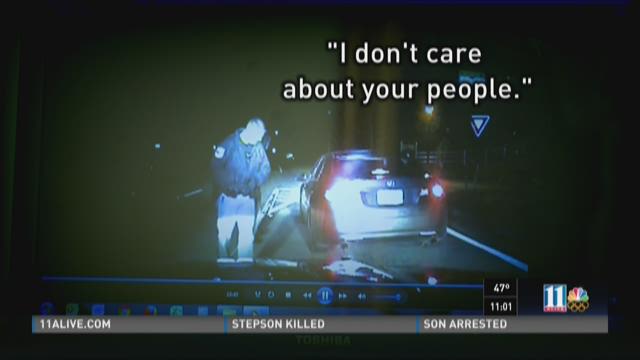 Lee defended the department and criticized Cupid, and she shot back.
"I am tired about the public accusations and assertions about our police department," Lee said.  "She [Cupid] is seeking to create a media spectacle rather than seeking constructive solutions to the problems she alleges."
"Commissioner Cupid did not cause the media firestorm, [the] Public Safety [Department] did," Cupid said, referring to herself.  "If this officer cannot show discretion on the street when he knows he's on video, then what makes you think that he's not going to be brazen to do this again?"      
Commissioners tried to cut Cupid off.
People in the audience, who had attended the meeting to push for the creation of an independent, Citizen Review Board that would police the police, rose up and chanted, "Let her speak, let her speak."
Then Cupid, the representative of southwest Cobb, and several of her supporters stormed out of the building.
Just outside, Cupid collapsed. An ambulance arrived and EMTs checked her, but she did not have to be transported to a hospital. 
Cupid at first said she was going home, but decided to rejoin the meeting, where, just before adjourning, Lee said, "I apologize.  The tone I used was not right.  I have put on the record repeatedly that I will not tolerate any discrimination.  There's no place for it in Cobb County.... I, also, am disappointed in the pace of the investigation of the incidents with the officer and look for a swift conclusion to that investigation."
The county attorney is conducting the investigation and will forward a report to the Public Safety Director for possible action that could include disciplining Officer Lawson.  The report was initially expected to be complete by Monday, Dec. 14. 
Cupid said after the meeting that the problems with some Cobb County police officers run deeper than Lee's apology. 
The confrontation between Lee and Cupid began when Lee was introducing a plan to direct the Cobb County Public Safety Director and the County Manager begin a review of the police department's policies and procedures related to diversity training, community engagement and other issues.
The plan passed three to one, with Commissioner Bob Ott voting No.  The vote was taken while Cupid was absent.  Ironically, Cupid told 11Alive News after the meeting that she supports the concept of a review.
RELATED CONTENT: