Hundreds gather for Wreaths Across America in Marietta | News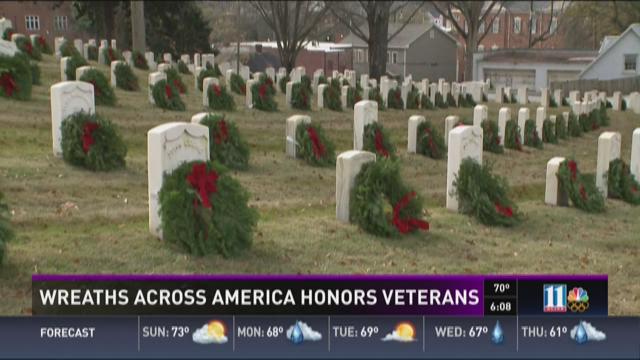 MARIETTA, Ga. - Hundreds participated in the nationwide tradition, Wreaths Across America, Saturday at the Marietta National Cemetery.
"What else can you give, when you're protecting your country and protecting your freedom that's the maximum of course," said World War II Veteran Marion Nesmith.
Volunteers spread out across the cemetery to honor our men and women who served and died for our freedom.
Nesmith placed a wreath in honor of our country's prisoners of war.
"I feel like it's an opportunity for us to honor our dead, and our soldiers and they should keep this in mind throughout the year," he said.
Lauren Davidson, a 13-year-old member of the Civil Air Patrol, laid wreaths with care, taking time to read aloud the name and service each time she kneeled.
"We do that to make sure we remember who they are and to make sure we understand that they died for us and that no matter what happens, we are free because of them," she said.
People gathered at cemeteries here and across the nation to pay their respects to the fallen. The effort here has grown but organizers still hope for more.
"When we started our Wreaths Across American program 23 years ago we had one wreath. Today we had over 5,000," said Brad Quinlin, the cemetery's volunteer historian.
With 18,838 thousand buried here, there is still some work to do raising the money to fund wreaths for each person.
"Each and every one of these men and women, in some fashion, gave us a gift. Many of them gave us their lives and we're at a time in our yearly scope where we give," said Quinlin. "We think about giving, it's the holiday season and they gave us so much, why not in the middle of this holiday season, we take a moment back and we say thank you."