Nearly a thousand turn out for Marietta active shooter training | News
There is a science to violence. And in the last few years, it has evolved to include a brand new chapter: The rise of the active shooter.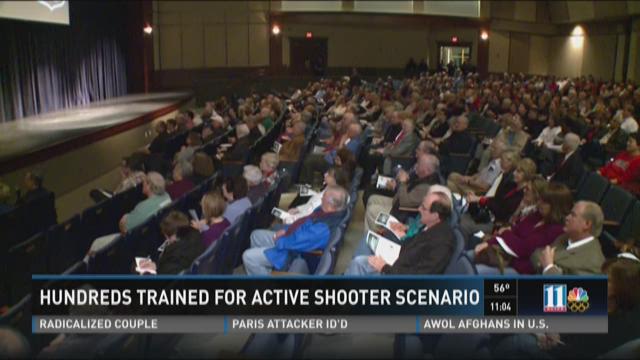 Police say the shooters are almost impossible to profile and predict. They can be male or female, young or old, black or white, foreign or domestic. And they are just as likely to attack in a big city as they are in a small town.
"In view of all the circumstances that we had in Paris and California, I just feel like we ought to know how to handle it if we had one," said one Cobb County man taking part in a seminar on active shooters in Marietta Wednesday night.
When some of the attendees were asked if they knew how to respond to an active shooter, the responses were similar.
"I'd probably do the wrong thing," said one. "But you need to know what the correct procedures are."
"I'm not sure," said another. "Try to run, hide, or fight back? I don't know."
"It's really about instilling confidence and empowering people of all ages," said Officer David Baldwin, one of the instructors. "Should something happen, they know what to do, because the worst thing that can happen is that you do nothing at all."
The auditorium at Marietta High School was packed with families, community groups, and business leaders who learned that, too often, denial gets in the way of reality in times of extreme danger. And that it's up to you to protect yourself and others.
"The opportunity for knowledge and the opportunity that police provide for us to learn, take advantage of it," said one woman in the large crowd.
Because Wednesday's session was so packed, police said they will schedule another seminar sometime before Christmas.