Cobb Co. attorney accused of stalking Ga. Attorney General, two others | News
Title (Max 100 Characters)
Cobb Co. attorney accused of stalking Ga. Attorney General, two others
MARIETTA, Ga. (WXIA) (Oct. 22, 2015) -- A Cobb County woman who has been an outspoken critic of the Cobb County Braves Stadium deal has been arrested.
Below, see a link to her Facebook comments about her arrest.
She was arrested Tuesday, accused of stalking none other than Georgia's Attorney General, and harassing two others.
Her arrest is just the latest twist in a year-long controversy that began with her opposition to the stadium deal.
It all started in September, a year ago.
Cobb County Attorney Susan McCoy woke up to find part of her front yard was burned.
Cobb County fire and police investigators later ruled it was a case of arson.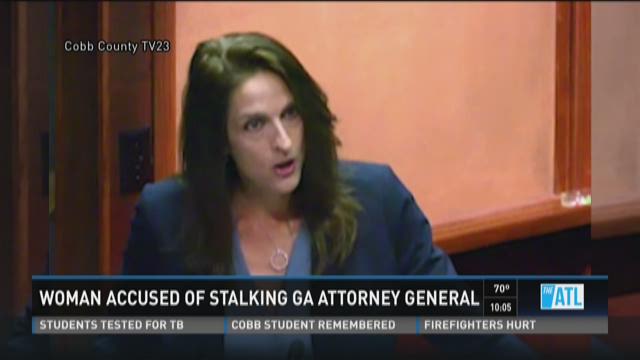 And from the beginning, McCoy has believed the fire was retaliation for opposing the Braves stadium deal. She had appeared before Cobb County Commissioners the previous week, calling the deal an illegal waste of taxpayers' money.
But now Susan McCoy is the one who's been arrested -- accused of going overboard in her attempts to prove who set the fire.
Police say McCoy stalked Georgia Attorney General Sam Olens, and harassed two men she blames for the fire, Michael Paris and James Touchton of Cobb County's Council for Quality Growth.
Police say McCoy sent Paris and Touchton 56 emails between August 7 and October 20, some of them threats.
In one email, according to police, McCoy wrote, "I've tried hard to make it… after you lit my yard on fire… If I can't make it, you are coming with me."
The Council for Quality Growth sent 11Alive News a statement on behalf of Parks and Touchton:
"We are saddened and disturbed by the allegations from the original incident and since. They are all unfounded and we do not feel it appropriate to comment further."
And police say McCoy stalked Georgia Attorney General Sam Olens over all of this:
"…said accused did, between 10/15/2015 and 10/19/2015, send 11 communications to Olens and his family that were threatening in nature and cause Olens and his family to fear for their safety. During the same time period, the accused did physically visit the Olens residence multiple times without the consent of the Olens, further harassing and intimidating Olens."
Olens' office is not commenting.
And 11Alive has not been able to reach Susan McCoy for comment.

UPDATE Oct. 23, 2015:  On Friday, McCoy was still not answering, publicly, questions about the substance of the complaints against her, but she offered her comments about her arrest, on her Facebook page.  
She is now out on bond. She is not allowed to contact the three men.
The charges against her are misdemeanors.
And who set the fire in her front yard?  Investigators, so far, have no idea, according to Cobb County's fire department spokesman.  Since February, 2015, the case has been "inactive pending any further information."