Georgia company fined $1.3 million for unfair business practices | News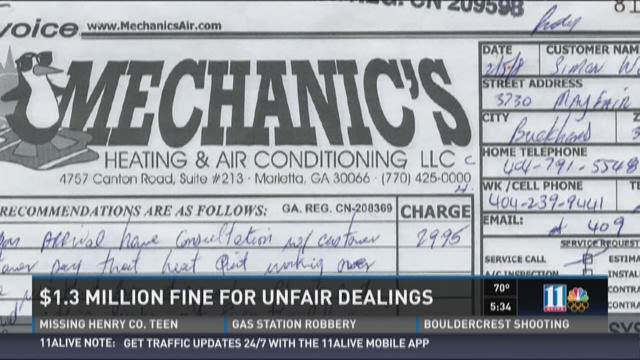 MARIETTA, Ga. -- The Georgia Attorney General's office has fined a Marietta heating and air repair company $1.3 million for violating fair business practices laws. 
Attorney General Sam Olens said Mechanic's Heating and Air posted fake positive reviews on sites like Yelp and Kudzu and used bait-and-switch tactics such as quoting one price on the phone and then increasing it at the job site. 
Olens said when customers complained, owner Monty G. White posted their personal public records on his website, including divorce proceedings and property tax information. 
"I think what really got him in trouble was when they began to find that he was actually falsifying some of the customer reviews that were on the positive side and that was the final nail in the coffin," said Fred Elsberry of the Better Business Bureau's Atlanta office. 
White even posted Elsberry's personal information on line and at least two news reporters who wrote stories about his business practices. 
No one was at the Mechanical Heating and Air's Marietta office Thursday.  
Elsberry said he may have relocated to Florida.