Cobb County reflects and raises money for 9/11 victims | News
MARIETTA, Ga. -- September 11th is a somber anniversary for everyone, but especially for first responders.
Friday, veterans, law enforcement and civilians joined together in downtown Marietta to reflect on the tragedies of 14 years ago.
"3,000 fine people were brutally murdered that day," said John Lenoir, whose son Rob was killed in the attacks.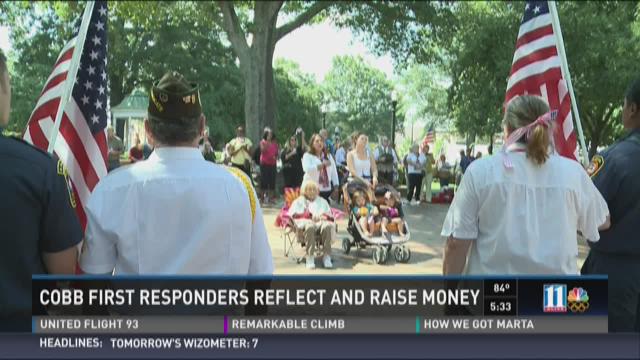 As many reflected, others are looking forward. They're remembering the great work many have done to help first responders in need.
At Cobb County Fire Station 19, the firefighters are heavily involved in non-profits like the Terry Farrel Fund, named after a fallen 9/11 first responder.
"We give (money) to, maybe a guy who has cancer or he was in a bad accident. Maybe you have a small volunteer fire department that is trying to get gear," said firefighter Chris Baines.
This Sunday, Cobb County firefighters will join residents in climbing the annual Memorial Stair Climb held at The Towers at Wildwood Plaza at 3200 Windy Hill Rd.
Participants will climb 110 stories to commemorate the heroes who lost their lives on September 11th.